In Europe a Majority of Newspapers Competed Against "Free Tabloids" By Becoming Tabloid Themselves. But They Still Haven't Figured Out How to Journalistically Fight the "Free"
Free tabloids now own 40% of the Spanish newspaper market, 29% of Italy's, 27% of Denmark's and 25% of Portugal's. Some 13 million free daily newspapers copies are distributed during the week throughout Europe. Does that hurt the mainstream newspaper? You bet it does!
And it's not going to get any better. Carlos Oliva-Velez, vice president of Metro that began the free tabloid craze in Stockholm just 10 years ago, claims that with its 16 languages, 78 local editions around the world, and a 15 million circulation. It is the third largest title behind the two Japanese giants, Yomiuri Shim bun and Asahi Shim bun.
Oliva-Velez told the World Association of Newspapers meeting in Korea last week that it became obvious to Metro founders that if mass information was available for free via the Internet then it made sense to launch a free newspaper, too.
"The availability of free and tangible information for users has had a clear impact on the public," he told the gathering. "And every morning we go out into the street to distribute the newspaper by hand, a gesture that makes a difference, a gesture that brings us closer to new readers every day, and a gesture that creates loyalty," he said.
Mario Garcia, one of the world's leading gurus in transforming newspapers from broadsheet to tabloid, told the delegates, "The tabloid fever is hot, and it is getting hotter." And for those who may have hoped that a free tabloid has run its course Garcia warned, "Free newspapers have had a major impact in most commuting cities. They are not going to go away."
If there is a positive for the mainstream newspaper from the advent of the free tabloid it is that it encouraged a large part of the industry in Europe to switch to tabloid size too. And that has given the media a breath of new air – new makeup, new ideas.
But the free tabloid still prevails, and even though the industry has converted to the size, Metro and its brethren keep expanding their sales at the cost of mainstream newspaper revenues.
And the fact is that no one has really discovered how to fight them. Because their target is the young and the young like free.
Some newspapers have launched their own free newspapers perhaps with the thought that if you can't fight them, then join them. A classic example is in Metro's hometown – Stockholm
There in 2002 Bonnier launched Stockholm City aimed at the exact same audience as Metro – the young, wealthy commuters who wants a quick read in the morning. That launch has now produced an old-fashioned newspaper circulation war between two free tabloids.
Metro Stockholm, after a considerable marketing campaign, stabilized and increased its circulation to 681,000, but Stockholm City has seen its circulation jump by 32% to 531,000. But those gains come at the expense of small circulation losses for the city's two morning mainstream newspapers, Dagens Nyheter and Svenska Dagbladet, – both of which have switched to tabloid.
In Germany, Axel Springer has tried another approach. It has combined the newsrooms of its national newspaper Die Welt, its regional newspaper, Berliner Morgenpost, and created a third newspaper, a tabloid, Welt Kompact which besides its own resources uses the resources of the other two newspapers.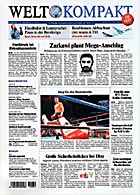 Welt Kompact is targeted at the same readership as free tabloids but instead of being free it sells for 50 centimes, compared to €1.30 that Die Welt itself costs. It is full of short stories, contains just 32 pages, and is updated late into the night so that the news is not stale.
The newspaper now sells in most large German cities, but its success is thought to be quite limited, and there are constant reports in the German media that Axel Springer is working on a deal with Metro to bring it into the German market.
Springer currently combines the circulation of Die Welt and Welt Kompact so a breakdown of the new tabloid's circulation is not possible but German pundits estimate it sells around 25,000 copies daily – a far cry from the six-figure circulations most free tabloids enjoy. Although the editorial product is complimented, it appears that even charging 50 centimes is a hindrance. But management also believes that as a direct result of the tabloid's introduction the circulation of Die Welt itself has increased by about 10% (20,000 copies.)
A real positive from the experiment thus far is that about half the readers of Welt Kompact were not previously reading a daily newspaper and that more than half the readers are younger than age 35.
Jan-Eric Peters, editor of the combined newsrooms, told the WAN meeting, "Welt Kompact focuses on news, while the strength of broadsheet is reflection and background. Welt Kompact is an easy-to-read newspaper about all you really need to know."
He reminded his audience that the young, mobile audience may not have much time to read a newspaper each day, but what they do read they want to be of high quality journalism.
So, if competing with your own free newspaper doesn't do the trick, and competing with a similar newspaper, but not free, does not do the trick, then what can?
Spain and Italy are the two markets with the highest penetration of free newspapers yet their newspapers are particularly healthy. How come? Unfortunately it is not because of their high journalistic standards, but rather they have hit upon a marketing brilliance that is now traveling across Europe – the low-cost promotion.
Newspapers are now selling DVDs, books on tape, regular books, encyclopedias, CDs etc. as extremely low cost additional options when buying the newspaper. These promotions now account for a major share of the bottom line profits.
Corriere della Sera, for instance, with a circulation of 690,000, last year produced a series of 30 poetry books, each one selling around 200,000 copies when it went on sale each Monday as an optional addition to the newspaper. It also produced a 14-volume History of Italy that sold some 370,000 copies per volume. Along with opera DVDs and the like Corriere della Sera earned more than €150 million from such promotions.
Not exactly the reason journalists would like to think people buy their daily newspaper, but it does compete against "free".
© Philip M. Stone of Stone & Associates, a partner in followthemedia.com