French, Spanish and Italian Financial Backers Provide Le Monde With Much Needed Financial Support. Look Soon for Big Changes in How a French National Newspaper Gets Marketed
Philip Stone
Suffering horrific financial losses, French national newspapers have undergone major ownership changes in the past year in exchange for much needed capital injection in deals that have, at times, united bedfellows of extreme opposite philosophies. But then one must remember the French have always been very pragmatic about their bed partners.
Following that trend now is the left-leaning Le Monde, the most prestigious French newspaper of all. It has raised €65 million in deals that should assure it retains its respectability, and with the new Spanish and Italian partners particularly adept at flogging newspapers in a "down market" Iook for that marketing know-how to hit French kiosks within a matter of a few months.
As predicted in previous articles from 2004, the two major new investors are Lagardčre, the French media and industrial conglomerate, and Spain's Grupo Prisa, which publishes Madrid's prestigious El Pais newspaper.
Lagardčre gets a 15% stake in Le Monde for a €25 million investment – it had been talking about a 17% share for €35 million. Grupo Prisa invests €25 million for a shareholding a bit less than 15%, and Italy's La Stampa (Fiat/Agnelli ownership) is investing €5 million. Existing shareholders including Le Monde's staff, and also the French glassmaker Compagnie de Saint-Gobain are being asked to make up the remaining €10 million.
The staff basically owns Le Monde and they voted by a 2-1 margin to accept the financing after being assured the minority shareholders would not seek to increase their shareholdings or interfere in editorial policy. Editorial policy matters were of grave concern after Serge Dassualt's purchase of Le Figaro last year and later edicts that Le Figaro negative stories about the defense industry were not welcome. With Lagardčre owning 15% of EADS – the people who bring you the Airbus but who are also weapons manufacturers -- there was a fear Largadere would not welcome negative Le Monde stories about EADS.
Le Monde needed the increased capital to handle debts of more than €100 million, and losses in the past two years of €77 million, including €50 million last year alone.
Lagardčre, on the other hand, is a French media company experiencing one success after another. The owner of Hachette, it publishes such magazine successes as Paris Match, Marie Clare, and Elle, and its book division does particularly well. The company also owns radio, television and newspaper interests, but its largest revenues emanate from a non-media investment – a 15% stake in European Aeronautics, Defense and Space (EADS) that now provides some 35% of the company's overall revenues and is growing. There is talk in Paris that Lagardčre would not object to selling its EADS stake so it could concentrate on its media business.
Following Lagadčre's €70 million profit, after capital gains tax, by selling back to Deutsche Telecom 55.9 million shares in its T-Online mobile unit in February (it still retains some 10 million shares) Largadčre announced a 2004 profit of €865 million, 29% higher than 2003. In addition to the Le Monde investment it is in discussions with Vivendi to run the French Canal Plus Pay TV company as a joint venture.
Grupo Prisa, Spain's largest media group, has been associated in various ventures with Le Monde for close to 30 years so the ownerships know one another well. It owns radio networks in Spain and South America, has a slice of Sogecable SA – a Spanish pay tv operator -- and it is active in educational and music publishing.
It has been particularly successful in selling El Pais in a difficult Spanish market, earning some €79 million in 2004 by tying its sales to special offers for DVDs, glossy publications, and even encyclopedias. It is also a talent La Stampa brings to the table as the Spanish and Italian media have become particularly adept, and very profitable, in such marketing ventures.

And with Lagardere's Hachette unit, one can only imagine what promotions the new owners could get up to in order to spark Le Monde's circulation – discounts for magazine subscriptions, special publications (encyclopedias etc.), special DVDs at a low price – all accompanying the newspaper sale.
Le Monde would not be the first quality newspaper to have to undergo such marketing. Most Italian and Spanish newspapers do it successfully and at a good profit. In the UK, the trend is to giveaway such products – usually CD compilations – to boost circulation and such tactics are used by most of the UK national media including the Times and Sunday Times.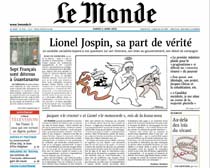 Le Monde has been hit hard because of new free tabloids, free news on the Internet, a soft advertising climate, and uniquely because of some riveting scandal published in a best selling book describing how the newspaper was run. That all resulted in a 6% circulation decline in 2004, down to 380,812 daily.
It was a similar situation with other nationals. Egyptian businessman Rami Lakah, who appears to have left Egypt under some financial clouds, has undertaken to turn around France-Soir, the afternoon newspaper that used to have a circulation of around 1 million but now is down to around 60,000.
But it was earlier this year that the marriage no one thought philosophically could happen, in fact did happen. Edouard de Rothschild, scion of the banking family, paid €20 million for a 37% stake in very left Liberation.
Liberation has its roots going back to the 1968 Paris student riots. It was founded by Serge July, then a Maoist student leader who today still heads the newspaper, and by radical left-wing philosopher Jean-Paul Satre. With credentials like those the last person one would expect it to welcome into its ownership as its largest shareholder would be a member of a family whose name is synonymous with capitalism. De Rothschild could, under certain circumstances, actually gain 52% of the company, but he has restricted himself to 40% of the voting rights and he says he will not interfere in editorial policy. Rather he wants to use Liberation as an anchor for a media empire he wants to build.
Serge Dassault, who runs France's most important defense industry of the same name, bought around 80% of Socpresse, which owns Le Figaro among other notable titles, for €1.5 billion. His editorial "spike" is active on stories that negatively describe Dassault defense business or personalities and journalists have come to understand the defense industry in general is off limits. Some 10% of Socpresse journalists have since resigned.
On the other hand Dassault is making a major investment in a new printing plant in southern France to help Le Figaro win back subscribers (France has probably the most antiquated slow national newspaper distribution system in Europe with such early afternoon deadlines necessary to make distribution outside Paris that local newspapers can easily print later news to steal readers from the nationals).
At Liberation there is talk of a price cut to boost circulation.
It seems deep pockets, even if they come at a steep philosophical price, have their place.
© Philip M. Stone of Stone & Associates, a partner in followthemedia.com